Hannah Martin & Emmett Scott
Sunday, November 24, 2019 @ 1:00 pm

-

2:30 pm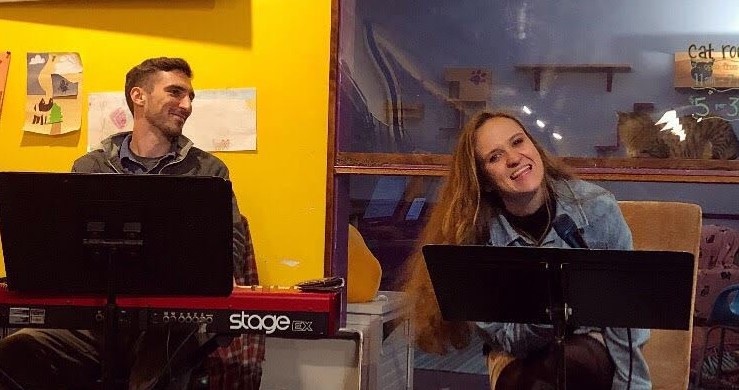 Afternoon Lunch Music
After seven years of making music together, Ithaca based musicians Hannah Martin and Emmett Scott are able to bring new twists to old classics melding jazz, blues, and funk styles. Stripping down to vocals and keys, this duo is well versed in the nuances of style and brings easy listening to a whole new level. Come enjoy some back to basics standards by some not so basic musicians.
Pianist Emmett Scott teaches private students out of Ithaca, NY and works with musical theatre students at SUNY Cortland. In the past he has toured with renowned bands such as Big Mean Sound Machine and Dreamt, while continuing to perform with Swamp Kids and New Planets.
Vocalist Hannah Martin resides in Ithaca, NY as a private voice teacher, consultant, and clinician. She has performed alongside faculty members of Ithaca College and Ithaca High School, while also giving workshops to students and educators alike to highlight the importance of vocal jazz and contemporary styles within music curriculum. She currently performs with Ithaca based rock and roll band Backtalk, sits in as the drummer for local children's theatre troupe Running to Places, and plays jazz gigs with various local musicians.
Lunchtime Music Series
informal and eclectic.
Musical styles range from solo jazz piano, to modern string duos to folk.
Music starts a 1pm
no cover – no reservations.
 Lunch is served concurrently from 11am – 3pm.